The history:
The five Kings named Harald
We have in Norway had five kings named Harald, and consequently write the Roman numeral V (five) behind the name of our current king, His Majesty King Harald V. But Harald V sadly lacks something all the other Haralds have: a nickname!
His Majesty King Harald V in full ceremonial dress uniform.​ Photo: Jørgen Gomnæs, Det kongelige hoff.
Harald Fairhair (AD c. 872 – c. 931)
The saga hero whom we celebrate in the context of the Unification anniversary must be said to havet he most famous nickname of all our kings: Fairhair. He had, according to legends and saga tradition, two other nicknames. As he was supposedly fostered by a troll by the name of Dovre, he may have been called at first for «Dovrefostre». But, just to have mentioned it, there is of course no evidence that he spent his childhood years with a troll.
Harald Fairhair and Queen Gyda on the throne in Nordvegen History Centre at Avaldsnes.
Harald II Greycloak (960 – c. 970)
Harald II was the son of Eirik, who rocked the famously metal nickname of Blood Axe. Harald was given the nickname Greycloak (or Grey-hide), and the story of how he was given this name suggests he may be called Norway's first «influencer». The story goes that during a journey in Hardanger, in western Norway, the king met an Icelandic trader who was unable to sell his hides. We don't know if the king pitied the trader, or whether the price and quality appealed to him, but Harald II ended up buying a hide. Suddenly everyone else on Harald's ship wanted to buy, too, and thereby the trader quickly sold all his wares.
Harald III Hardrada (1045 – 1066)
The third of the King Haralds got his nickname due to his unscrupulous and ruthless hard rule of Norway. Hardrada fought at the Battle of Stiklestad, with his brother Saint Olav. They lost, Olav died, and Haralad escaped via Sweden to Kiev and from there on to Miklagard (Istanbul) where he served the emperor as a warrior for several years. Maybe this was the period when he was hardened to be a «Hardrada». He gathered impressive wealth during his service, which would eventually be of great use to him. Harald returned to Scandinavia around AD 1045, ravaged about [?] in Denmark for a while, hoping to conquer both Norway and Denmark. But then he was suddenly offered to rule Norway together with his nephew Magnus the Good. Magnus had had an overblown military budget for a while, and was in need of an ally with a golden war chest. This was what Hardrada could bring to court. When Magnus died less than two years later Harald became sole ruler. And a hard one. Harald Hardrada died at the Batlle of Stamford Bridge, in an attempt to become king of England. His death marks, in Norway, the end of the Viking period.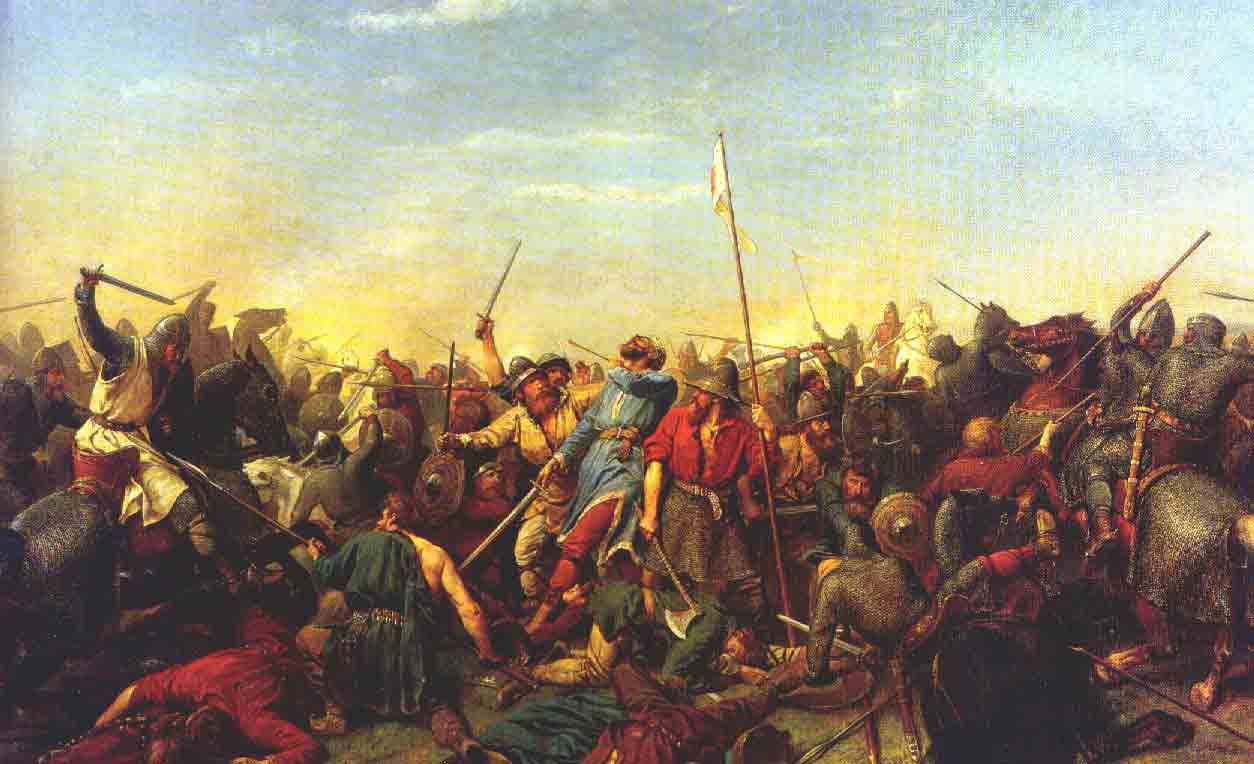 The Battle of Stamford Bridge, as envisioned by the artist Peter Nicolai Arbo. This last viking battle tok place at Stamford outside of York, not in Chelsea in London, where the local fotball team has a home ground bearing the same name.
Harald IV Gille (1130 – 1136)
The name Gille is presumably from the Irish «Gille Christ», meaning a servant of Christ. His mother was probably Irish, or from the Hebrides in northwest Scotland, and it was from the Hebrides he came sailing to Norway, sometime toward the end of the 1120's. His plan was to prove that he was the son of King Magnus Barefoot (ruling AD 1093 – 1103) and consequently could claim the royal power of Norway. Lacking DNA evidence, he proved his word by walking barefoot over nine glowing ploughshares within coming to harm. This was the lie detector of its time. How well his nickname suited him may be discussed. His CV could brag of having mutilated and blinded his half-brother King Magnus, who co-ruled with him for a short time, and of having executed Bishop Reinald in Stavanger. Harald was killed while staying overnight with his «frille» Tora. A «frille» was a mistress, and all kings at this time would have mistresses, even if they were married to a queen.
Illustration by Eiliv Peterssen: Bishop Reinald of Stavanger executed by Harald Gille and his men.
Harald V the Lucky? (1991–    )
Long live the king. Harald V, our most gracious king! The first king bearing the name of Harald in nearly 900 years, and the first Norwegian king born in Norway in over 600 years! King Harald was born in 1937 and as a child experienced a dramatic flight from war in 1940. Since then there's been a long lucky streak, for the king, the flag and all of Norway. Has any people, anywhere in the world, at any time, ever had it safer or better than those blessed to live along this Northern Way these years since the last world war? Not very likely.
The habit of giving kings nicknames ended in the Middle Ages. We've progressed through «Eirik Blood-Axe», «Magnus the Blind», and «Inge the Hunchback», to mention a few, and their names tell us they had their struggles. Surely we must be allowed to call our current king for King Harald the Lucky!